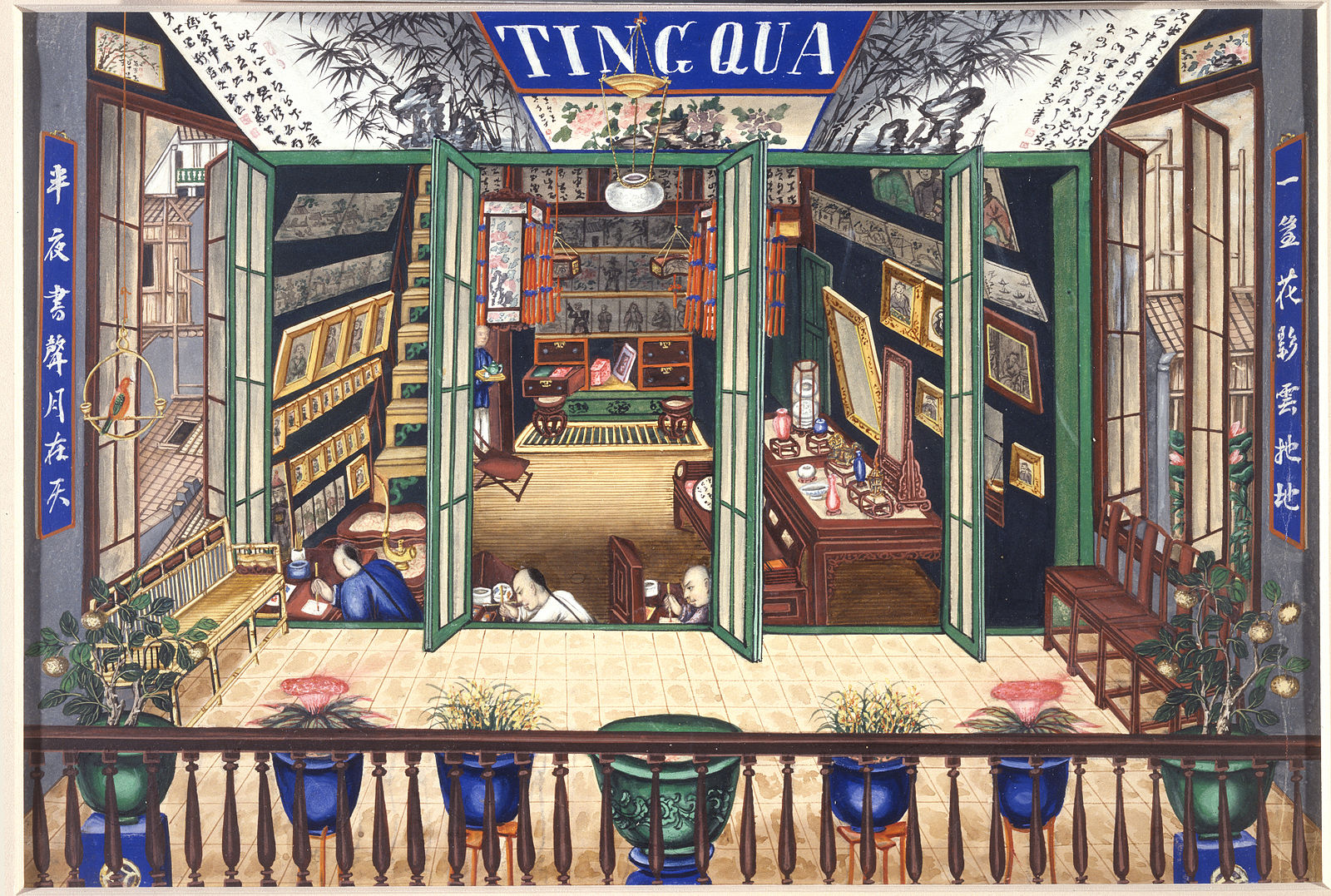 An 1855 painting of the gallery of Tingqua, one of the most successful suppliers of "export paintings" for Guangzhou's foreign traders.
Note
Please expect minor shipping delays due to current global coronavirus outbreak.
Delivery
We aim to ship out the majority of products within 2 days on receival of order. All orders are shipped from our warehouse in China. We send most our packages via couriers and we attempt to find the most competitive delivery charges. The delivery time depends on the destination. You can find an estimated guideline for global delivery time:
America, Europe, Oceania: 2–3 weeks
Taiwan, Hong Kong, Macau and rest of Asia: 1–2 weeks
China Mainland: within 1 week
If you did not receive your package in these time frames, please email us。
International shipments may be subject to import duties and tax. Additional charges must be at the customer's expense. The Type has no control over these charges and accepts no responsibility for any additional international costs. Should a parcel be send back to us as too many attempts were made by other courier such as FedEx, UPS or DHL additional charges will apply and a return postage cost will incur.
Payment
All transactions are processed via Stripe (inc. AliPay) and PayPal. We accept all major credit cards in pound sterling.
Returns
Products may be returned if you notify us via email within 7 days of receipt of product. Products must be returned undamaged and in the state in which they were sent. You are responsible for ensuring correct packing of the product and using appropriate postal and recorded delivery methods with relevant insurance cover in place. The Type is not responsible for the loss or damage of any returned product. Upon satisfactory receipt of the returned goods we will refund your payment within 7 days minus the costs of initial shipping and packing charges.
Damage
If your product is received damaged in the post, please notify us immediately (preferably with photographic evidence) and retain the product and packing and we will contact the courier company who will be responsible for addressing and compensating the damage claim.
注意
由于当前全球冠状病毒的疫情影响,运输可能会有延迟。
发货
我们争取在收到订单后的 2 天内发货大部分产品。所有订单均从我们在中国的仓库发货。我们通过快递公司发送大多数包裹,并尽力寻找较为廉价运输服务。交货时间取决于目的地。以下为全球各地送货的预估时间:
中国大陆:1 周内
香港,澳门,台湾和亚洲其他地区:1–2 周
美国,欧洲,大洋洲:2–3 周
如果您在这个时间内仍没有收到包裹,请电邮联络我们。
国际运输可能要缴纳进口关税和税款。附加费用必须由顾客承担。我们无法控制这些费用,也不对任何额外的国际费用承担任何责任。如果因为其他快递公司(例如 FedEx,UPS 或 DHL)进行了多次尝试而无法递送,并将包裹寄回给我们,我们可以再寄出,但需要顾客额外支付费用。
付款
所有交易都通过 Stripe(包括支付宝)和 PayPal 处理。我们接受市面上主流的信用卡种类,结算货币为英镑。
退货
如果您在收到产品后的七天内通过电子邮件通知我们,我们会为您安排退货。产品必须完好无损地退回,并且包装保持原状,没有打开。您有责任确保完好的包装好产品,并使用适当的方式安全寄回。我们不对任何退回产品的损失或损坏负责。收到退货并无误后,我们将在 7 天内退还您的付款,扣除初始运输和包装费用。
损坏
如果您在邮寄中收到损坏的产品,请立即通知我们(最好提供照相证据)并保留产品和包装,我们将与快递公司联系,该快递公司将负责处理和赔偿损坏索赔。